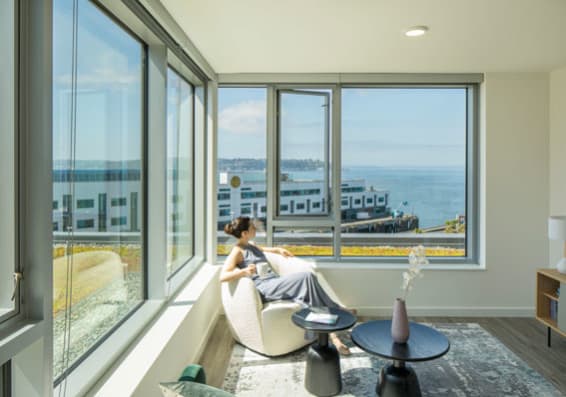 TOUR 10 CLAY YOUR WAY!
Come see your new home in person through our guided or self-guided tours. Can't make it here? We are making it easy to take a tour from wherever you are. From a live video walkthrough with a member of our team to virtual tours of our apartments and amenity spaces, you can experience our community from anywhere!
SELF-GUIDED TOUR
Discover 10 Clay whenever is most convenient for you! We've partnered with Rently, an app that allows you to tour on your own time – even if we aren't in the office. Their secure app will guide you through step by step instructions to access the building, view specific units, and check out our shared amenity spaces as well!
Self-guided Tour
IN-PERSON TOUR
We are taking precautions to ensure that both our guests and staff are safe and comfortable when visiting our homes. Practicing safe social distancing, limiting the number of people inside at a time, and wearing proper face coverings will be required, and we will provide sanitizing stations as well as regular area cleanings.
In-person Tour
LIVE VIDEO TOUR
Sometimes seeing a home in person just isn't possible. Whether it's a busy schedule, travel plans, relocating to a new city, or you just don't want to leave the house! That's why we're providing live video tours with our on-site team, to allow you to ask questions real time, request to view or test specific features, and hear detailed community insights, no matter where you are.
Live Video Tour
VIRTUAL TOUR
Experience your future home anywhere, anytime. Use your mouse (or finger on your phone) to navigate from room to room, experiencing the entire home in a fully interactive "walk through" that you can share with friends and family and view as many times as you want!
Testimonials
We've lived in Seattle for the past 10 years, and 10 Clay is by far the best apartment building we've lived in!

- Google - February 2021
We toured 10 Clay Apartments with Alex and loved the building and location. Alex went out of his way to accomodate us and was one of the best agents we

- Google - March 2021
Best building I've lived in by far in Seattle! Perfect location close enough to all the Belltown fun, but right by the water so feels more luxurious. The rooftop views are killer and they're super dog friendly.

- Google - March 2020
We rented a one-bedroom apartment for one of our executives who constantly travel in and out of state. Alex (the property manager) has been fantastic and super helpful from beginning to end.

- Google - July 2020
I've lived here for two years and I love it... The entire staff is reliable and kind, including the property manager who is the best I've had in 20 years of renting and maintenance issues are fixed next-day.

- Yelp - November 2020
Choosing to live at 10 Clay has been one of the best decisions I've made since moving to Seattle. I moved here just after the opening of the building and have absolutely loved living here. The building is beautiful and the views from the rooftop are breathtaking, but what really makes 10 Clay feel like home, is the property manager, Alex. From the day I first toured the building and experienced Alex's warm personality and humor, he has continued to out-do himself.

- Google - March 2021
We have lived at 10 Clay for about 3 weeks now and would like to pass on our experiences with the property. Starting at the top of our list is the property manager, Alex. From the beginning of our apartment search, he has always been there for us. Not having lived in an apartment for a while, we had a lot of questions. His responses were always timely and informative. He has such a positive attitude and cheery personality. He's truly a superstar.

- Google - June 2021