10 Clay Luxury Belltown Apartments
Let our photo gallery show you the ins and outs of our Seattle waterfront apartments. There's something to admire at every head turn, be that the showstopping views from the rooftop lounge, the stylish sundeck with chairs, or the yoga studio that sets the perfect ambiance for finding your Zen. And this is only the beginning—immerse yourself in the pictures and start imagining your life at 10 Clay Apartments!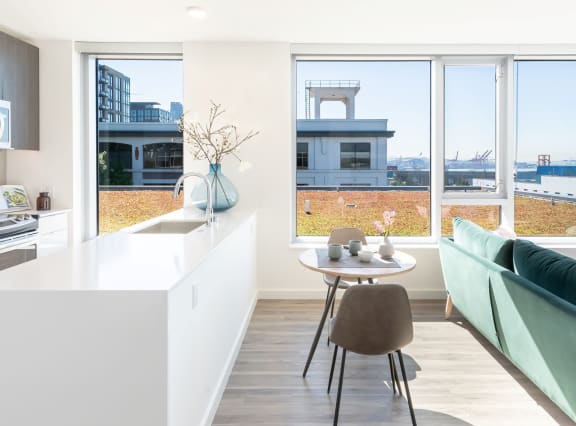 Start Your Search
Find Your Belltown Apartment
Our luxury Belltown apartments offer more than just a roof over your head—they are the embodiment of an upscale lifestyle. These versatile studio, one, and two-bedroom floor plans and expansive penthouses come with refined finishes and contemporary designs, offering an ideal retreat for the savvy urban dweller. With thoughtful luxuries, like quartz countertops, Italian porcelain shower tiles, walnut doors with keyless entry, and floor-to-ceiling windows opening to awe-inspiring views, our homes are bound to steal your heart from the moment you set foot inside. Check out the available layouts, then come meet us for a walk-through!
At Home in the City
Seattle's Central Waterfront
Your Belltown apartment is your ticket to Seattle's finest work and play opportunities. Enjoy immediate access to the city's pier activities, then take the time to explore the Belltown nightlife, the bustling Seattle Center, and the Space Needle. We're also a short walk from downtown businesses and a smooth commute away from the tech hub in the adjoining South Lake Union. As for recreation, hop on the hiking and biking trails extending from Myrtle Edwards Park to the Burke Gilman Trail and beyond. Call us today to learn more!
Testimonials
We've lived in Seattle for the past 10 years, and 10 Clay is by far the best apartment building we've lived in!

- Kelsey K (Google) - February 2021
We toured 10 Clay Apartments with Alex and loved the building and location. Alex went out of his way to accomodate us and was one of the best agents we

- Danish P (Google) - March 2021
We rented a one-bedroom apartment for one of our executives who constantly travel in and out of state. Alex (the property manager) has been fantastic and super helpful from beginning to end.

- Google - July 2020
We have lived at 10 Clay for about 3 weeks now and would like to pass on our experiences with the property. Starting at the top of our list is the property manager, Alex. From the beginning of our apartment search, he has always been there for us. Not having lived in an apartment for a while, we had a lot of questions. His responses were always timely and informative. He has such a positive attitude and cheery personality. He's truly a superstar.

- Google - June 2021
Lived here for 3+ years and love it. Great staff, great location, great neighbors.

- Brett C (Google) - December 2022
Alex and 10 Clay have been nothing short of a dream! It

- Nicole G (Yelp) - December 2022
10 Clay is such an awesome place to live in! Great location, new appliances and modern finishing. Alex is really helpful, so friendly and just the best. I love all the community events and festive decorations that he organizes. Couldn

- Parth J (Google) - July 2021
10 Clay is the 1st apartment we lived in since moving to Seattle, and it

- Jack B (Google) - January 2023
The leadership team is absolutely wonderful! They have managed to perform acts of kindness for their residents during an extremely bleak pandemic.

- Hannah H (Google) - June 2022